courses
Top Free online google courses with certification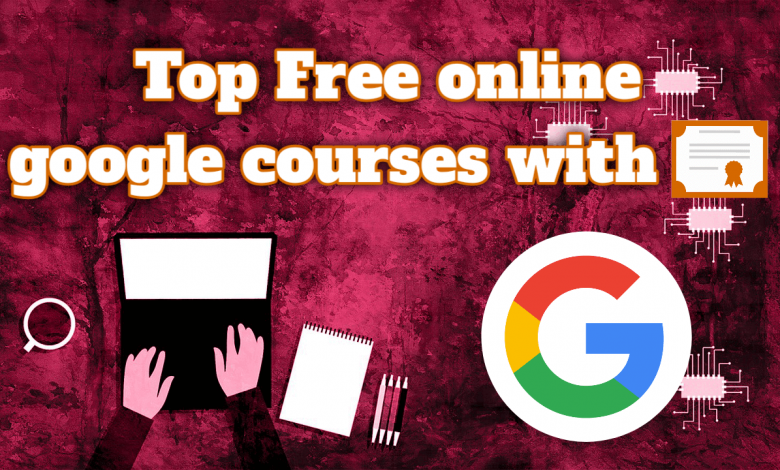 It has never been easier to learn online than it is now. To get started, all you need is a device and an Internet connection. It wasn't always that simple 10 years ago.
Google is assisting each and every one of us in some way. It is always the first pick for pupils when looking for materials. However, Google is more than just a search engine; it also offers a variety of online courses with certificates.
We will mention in this article a hand-curated collection of the best Google Training Courses & Certifications to learn about a variety of topics and how can you get these certificates for free.
Google IT Support
The Google IT Support Professional Certificate is a good way to start a career in IT. No prior experience or IT expertise is required for the certificate program, which was designed by Google and is available through Coursera. It's intended to provide students with the abilities they'll need for an entry-level IT position. The certificate program covers topics such as computer construction and operating system installation, system administration and security, networking, and troubleshooting.
Features:
Adaptable schedule.
Free course.
Learn at your own pace.
Not need a degree or prior experience.
After completion, you will receive a certificate that you may share.
English, Spanish, Arabic, French, and more languages are available.
Google IT Automation with Python
This Google Professional Certificate is intended to provide IT workers with in-demand skills such as Python, Git, and IT automation. The curriculum relies on IT fundamentals to assist participants advance their careers. It is intended to educate students how to program in Python and how to automate basic system administration chores using Python. Participants also learn how to utilize Git and GitHub, diagnose and debug difficult problems, and leverage configuration management and the Cloud to automate at scale.
This certificate takes around six months to complete and is meant to prepare you for a variety of IT professions, such as more advanced IT Support Specialist or Junior Systems Administrator.
Features:
Option for self-paced learning.
Quizzes for practice.
Adaptable schedule.
Feedback on programming assignments.
Graded quizzes
English, Spanish, Arabic, Portuguese, Russian, French, and more languages are available.
Firebase in a Weekend
Firebase in a Weekend is a course that teaches you how to utilize the Firebase app development platform in only one weekend. You will learn how to allow users to login, have data linked with them, and get notifications after completing this course. You'll also learn how to protect and add rights to your data using Firebase's Security and Rules language. You'll get a quick understanding of Firebase Analytics at the end of this session, so you can start collecting data right away.
Features:
Quizzes that are interactive.
Rich content.
Self-paced learning.
Data Engineering with Google Cloud
The Google Cloud Professional Certificate in Data Engineering is a hands-on training. It enables you to put the abilities you've learned in the video sessions into practice. Google BigQuery, which is used and setup within Qwiklabs, will be covered in projects. This course will teach you how to analyze large amounts of data for analytics and machine learning.
Features:
Not need a degree or prior experience.
Rich learning content.
Adaptable schedule.
Free course .
Google's Python Class
Python Class is a free Google course for those who wish to learn Python but have no programming expertise.
Basic Python topics such as strings and lists are covered in this course. Lessons on more advanced subjects like text files, processes, and http connections are also available. Readings, lecture videos, and hands-on coding experiences are used to teach Python to students. They can also look at connections to other resources to help them improve their Python abilities. The course will take between 16 and 20 hours to complete.
Features:
Master the basics of Python.
Learn Python through exercises.
Learning by solving problems.
Google AI course
Google AI is a Google course that teaches you about artificial intelligence. It's a platform that keeps everyone up to date on the newest AI developments. It's one of the top Google certifications for learning how to use artificial intelligence (AI) and machine learning (ML).
Features:
Free course.
Rich learning content.
Not need a degree or prior experience.
Adaptable schedule.
Android Basics by Google
Google's Android Basic course is designed for prospective Android developers who are new to programming. This course provides in-depth understanding of the topic and ensures that students acquire the necessary skills to advance their careers as professional Android developers.
Features:
Adaptable schedule.
Projects in the real world.
Support from a technical mentor.
Career services and a personal career coach
Basic computer abilities, such as file management, are a plus.
Google Ads Certifications
It was once known as the Ads Academy, but it is now known as Google Skillshop. Google Ads, commonly known as Pay Per Click advertising, is a very popular skill to learn. Every company, large or little, is attempting to expand through digital advertising.
Business houses need people with Ads management and optimizing skills. So, it is very beneficial for you if you want to learn a new skill for your career. You can easily learn Google Ads through the Google Free Online Certification course.
Features:
Adaptable schedule.
Learning for free.
Support from a technical mentor.
Google Tag Manager
The fundamentals of Google Tag Manager assist you in learning a variety of analytics and marketing tags. You will learn how to utilize Google Tag Manager in this self-paced Google online course. For analysts, marketers, and engineers, this Google career credential simplifies the tag implementation and maintenance process.
Features:
Self-paced learning.
Adaptable schedule.
Free course.
Recognised certification.
How can I get Google certified for free?
This is dependent on the field in which you wish to obtain certification. Only a few free certification programs are now available from Google, and if you are ready to learn one of them, you are good to go.